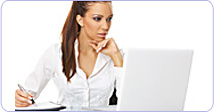 Persuasive Essay
The persuasive essay utilizes logic and reason to persuade a reader to believe that a particular viewpoint is legitimate.
The center point of a persuasive essay is the argument. Therefore, before you start writing, it is very important to select an argument. Your argument must be debatable, that is, it must have two sides. Once, you have selected the argument decide which side of the issue are you going to write about, what solution will you offer and what will be the purpose of your persuasive essay.
A persuasive essay must provide specific and convincing evidence. Therefore, it is essential to conduct a thorough research. Often, your knowledge and experiences may not be adequate for writing a good persuasive essay. In such a case don't hesitate to interview people who are experts on your topic. Go to the neighborhood library or browse the Internet to obtain facts, statistics, quotes and examples related to your topic and use them generously in your persuasive essay. All this will help you to support your argument strongly.
Apart from supporting your side of the argument, you should also provide some space for the opposing argument in your persuasive essay. Try to disapprove the opposing argument by understanding the opposite viewpoint of your position and then counter it by providing contrasting evidence or by finding mistakes and inconsistencies in the logic of the opposing argument.
In a nutshell, a persuasive essay is all about convincing the audience to support an argument through sound reasoning and solid evidence.